Im trying not to buy any food this week and use up all the stuff I have in the fridge. Im getting those dang wisdom teeth out on Friday so I know next week I wont be eating much solid foods and I dont want them to go to waste. When I looked in the fridge last night I saw some leftover pumpkin puree I had and decided to make it into breakfast. This is pretty much just like my
mango coconut overnight oatmeal
only with pumpkin haha, go figure. It was pretty yummy when I ate it this morning, just like thanksgiving.
Again, like with my last recipe, the measurements are just guestimates as I didnt actually measure anything, but add more or less of any of the ingredients to achieve the flavor and consistency that you like :)
Pumpkin Pie Overnight Oatmeal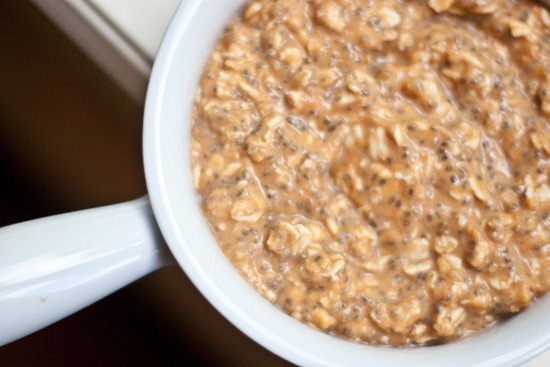 1/2 cup old fashioned oats
1/4 tsp cinnamon
dash of nutmeg
dash of ginger
1.5 tbsp chia seeds
1 tbsp pure maple syrup(more or less depending on how sweet you want it)
1/2 cup plain greek yogurt(I like Fage)
1/3 cup pumpkin puree
2 tbsp raisins
1 tbsp walnuts
1/2 cup milk(use as much as needed to make it almost soupy)
Place all in a container and mix it up
Refridgerate overnight
In the morning, Enjoy!